Low Drift DualFan for PWM Systems - BPDF
---
Part Numbers

BP11002
BP11003
BP11004
BP11005
BP11006



BPDF04
BPDF05
BPDF06
BPDF07
BPDF08
BPDF09
BPDF10
BPDF12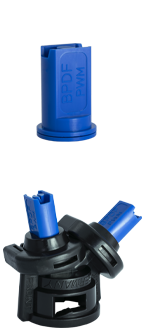 Description
Pressure Range: 20-80 psi

Recommended Boom Height BP: 18-36" BPDF: 15-25" (with 20" nozzle spacing)

Materials of Construction: Polyacetal, EPDM
Blended Pulse and Blended Pulse DualFan for PWM Systems
The Blended Pulse™ nozzle is a purpose built non-air injected nozzle for Pulse Width Modulation systems, providing consistent spray patterns and flow rates. This design produces the most effective droplet spectrum of Medium to Coarse to Very Coarse (depending on the nozzle size and pressure), making these nozzles truly general purpose. Lower pressures will be better for burndown applications where drift control is important, and slightly higher pressures will be best for coverage critical applications like contact herbicides, fungicides and insecticides.
The dual patterns of the Blended Pulse™ DualFan eliminate any concern about missing the target due to the nozzles being off for a fraction of a second (even at higher speeds). To maximize coverage, BPDF nozzles may be alternated on the boom to provide four angles of spray orientation into the canopy, effectively spraying the target four times in one pass.
We recommend keeping the duty cycle between 50 and 100%, and the pressure between 20 and 80 psi, depending on the application.
For more information about PWM spraying technology and what it has to offer to farmers, see the
PWM Technology Overview
.
For help selecting the right nozzle type and size for your specific application, check out the
PWM Nozzle Selection Guide
.
Blended Pulse™ is a trademark of and used with permission of Capstan Ag Systems, Inc.